ファンクラブについて
ABBAオフィシャルファンクラブは
1986年にヨーロッパで開設した
ABBA『公認ファンクラブ』です。
一昨年25周年を迎えました!
スウェーデンはもちろんのこと
アメリカ、カナダ、オーストラリアなど
ほとんどの主要国に支部があります。
日本は1999年に仲間入りしました。
ABBAの最新の情報はもちろんのこと
世界中のファンとの交流もあります。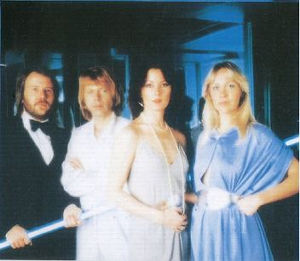 Welcome to the Official International ABBA Fan Club
– the club that offers you much more than just a magazine
If ABBA are there, we are there ? and so could you!
Over the last 25 years, The Official International Fan Club has developed from just producing a simple magazine to becoming a vital part of the world of ABBA fandom, much thanks to the support we have had from Agnetha, Bjorn, Benny and Frida themselves as well as from ABBA's own spokesperson Gorel Hanser, but also from cooperating with record companies, ABBAWORLD and the likes.
We are very proud that we have been able to give all our members the opportunity to go to exclusive previews and premieres around the world. ABBAWORLD first opened its doors for the Fan Club both in London and Melbourne where all members were welcome to a preview, and some were even invited to the grand openings. When ABBA last reunited at the premiere of Mamma Mia! The Movie in Stockholm, all members that wanted to go got a ticket absolutely free for that magic night. At almost all major ABBA-related events in Europe, Australia or the U.S., we have been able to offer hard-to-get tickets to our members – of course not always for free, but still quite often without any charge.
The magazine that comes four times a year gives you the latest news, in-depth stories, a Q&A section and much more. The magazine has its own photographers for exclusive pictures besides the ones we buy from picture agencies around the world and unpublished rarities from private archives. You also can win rare promo material, signed items and much more.
The International ABBA Weekend is the world's greatest ABBA party. In April every year, hundreds of fans gather in Roosendaal, The Netherlands. The schedule includes a big record and memorabilia fair, a disco, performances, video shows, there have been exhibitions of original stage clothes, rare photos and memorabilia and much more. Special guests that have performed or talked about their work with ABBA include Owe Sandstrom, Nanne, Benny's son Ludvig with his band and many more. The weekend is open to all fans, but as a member you get a discount on the entrance fee. For this year's programme,.
Both the magazine and the ABBA Weekend come with extra bonuses now and then, like the unique souvenir singles or DVDs that Universal has pressed for us which have become real collector's items.
In collaboration with a private record label, we were the first to release many of Agnetha's solo recordings on CD, including the much wanted collection of her German singles, and they were exclusively available from our own shop.
We would love to welcome you as a member. For more details on how to join, please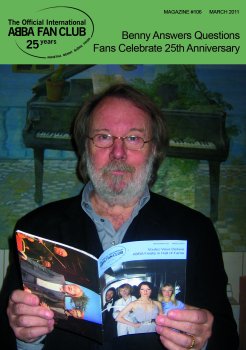 ---